Flat Bottom Bins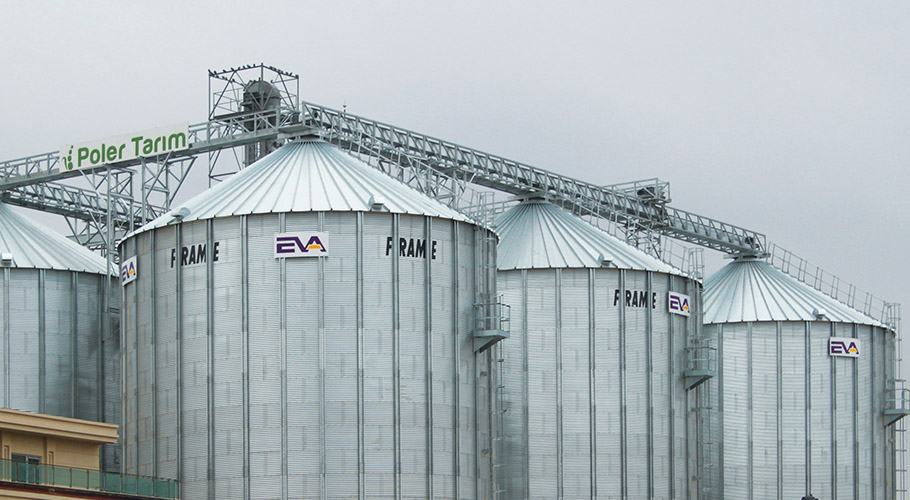 Flat bottom bins are suitable for storing all types of grains. Bins can be from 350 to 600 gr/m2 galvanized coating in the range of 3.5 - 32 m diameters in line with customer needs. Sealants against water are used in bin sheets. ANSI / ASAE, DIN or EUROCODE bin designs can be made in line with customer requests. Wind, Snow and Seismic loads should be taken into the consideration when installing the plant
Standard Accessories in Bins;
Standard Aeration Systems
Complex Ground Ventilation for Oil Seeds and Better Ventilation Requirements
Temperature Monitoring Systems
Screw type Sweep Augers
Aeration Vents
Roof Exhaust Fans
Internal, External and Roof Ladders
Wind Ring
Free Flow Side Discharges
Service Platforms
DIAMETER (FT)
MODEL
OVERALL HEIGHT (m)
CAPACITY
m
Ton
3,64 m (12 FT) EVA4
4/5
5,41
50
42
4/6
6,29
59
50
4/7
7,17
68
58
4/8
8,05
77
65
4/9
8,93
86
73
4/10
9,81
96
81
4/11
10,69
105
89
4/12
11,57
114
97
4/13
12,45
123
104
4/14
13,33
132
112
4/15
14,21
141
120
4/16
15,09
150
127
4/17
15,97
160
136
4/18
16,85
169
143
4/19
17,73
178
151
4/20
18,61
187
159
4/21
19,50
197
167
4/22
20,38
206
175
4/23
21,26
215
182
4/24
22,14
225
191
4/25
23,02
234
198
4,55 m (15 FT) EVA5
5/5
5,67
79
67
5/6
6,55
93
79
5/7
7,43
108
92
5/8
8,31
122
103
5/9
9,19
136
115
5/10
10,07
151
128
5/11
10,95
165
140
5/12
11,83
179
152
5/13
12,71
194
165
5/14
13,59
208
176
5/15
14,47
222
188
5/16
15,35
236
200
5/17
16,23
251
213
5/18
17,11
265
225
5/19
17,99
279
237
5/20
18,87
294
249
5/21
19,75
309
262
5/22
20,63
324
275
5/23
21,51
338
287
5/24
22,39
352
298
5/25
23,27
366
310
5,46 m (18 FT) EVA6
6/5
5,97
116
98
6/6
6,85
136
115
6/7
7,73
157
133
6/8
8,61
178
151
6/9
9,49
198
168
6/10
10,37
219
186
6/11
11,25
239
203
6/12
12,13
260
220
6/13
13,01
281
238
6/14
13,89
301
255
6/15
14,77
322
273
6/16
15,65
342
290
6/17
16,53
363
308
6/18
17,41
383
325
6/19
18,29
404
343
6/20
19,17
425
360
6/21
20,05
445
377
6/22
20,93
466
395
6/23
21,81
486
412
6/24
22,69
507
430
6/25
23,57
528
448
6,37 m (21 FT) EVA7
7/7
8,03
216
183
7/8
8,91
244
207
7/9
9,79
272
231
7/10
10,67
300
254
7/11
11,55
328
278
7/12
12,43
356
302
7/13
13,31
384
326
7/14
14,19
412
349
7/15
15,07
440
373
7/16
15,95
468
397
7/17
16,83
497
421
7/18
17,71
525
445
7/19
18,59
553
469
7/20
19,47
581
493
7/21
20,35
609
516
7/22
21,23
637
540
7/23
22,11
665
564
7/24
22,99
693
588
7/25
23,87
721
611
7,28 m (24 FT) EVA8
8/7
8,23
286
243
8/8
9,11
322
273
8/9
9,99
359
304
8/10
10,87
396
336
8/11
11,75
432
366
8/12
12,63
469
398
8/13
13,51
505
428
8/14
14,39
542
460
8/15
15,27
579
491
8/16
16,15
615
522
8/17
17,03
652
553
8/18
17,91
688
583
8/19
18,79
725
615
8/20
19,67
762
646
8/21
20,55
798
677
8/22
21,43
835
708
8/23
22,31
871
739
8/24
23,19
908
770
8/25
24,07
945
801
8/26
24,95
981
832
8/27
25,83
1.018
863
8/28
26,71
1.054
894
9/8
9,41
412
349
8,19 m (27 FT) EVA9
9/9
10,29
459
389
9/10
11,17
505
428
9/11
12,05
551
467
9/12
12,93
598
507
9/13
13,81
644
546
9/14
14,69
690
585
9/15
15,57
737
625
9/16
16,45
783
664
9/17
17,33
829
703
9/18
18,21
876
743
9/19
19,09
922
782
9/20
19,97
968
821
9/21
20,85
1.015
861
9/22
21,73
1.061
900
9/23
22,61
1.107
939
9/24
23,49
1.153
978
9/25
24,37
1.200
1018
9/26
25,25
1.246
1057
9/27
26,13
1.292
1.096
9/28
27,01
1.339
1.135
9,10 m (30 FT) EVA10
10/8
9,61
514
436
10/9
10,49
572
485
10/10
11,37
629
533
10/11
12,25
686
582
10/12
13,13
743
630
10/13
14,01
800
678
10/14
14,89
857
727
10/15
15,77
915
776
10/16
16,65
972
824
10/17
17,53
1.029
873
10/18
18,41
1.086
921
10/19
19,29
1.143
969
10/20
20,17
1.201
1018
10/21
21,05
1.258
1067
10/22
21,93
1.315
1.115
10/23
22,81
1.372
1.163
10/24
23,69
1.429
1.212
10/25
24,57
1.486
1.260
10/26
25,45
1.544
1.309
10/27
26,33
1.601
1.358
10/28
27,21
1.658
1.406
DIAMETER (FT)
MODEL
OVERALL HEIGHT (m)
CAPACITY
m
Ton
10,01 m (33 FT) EVA11
11/8
9,91
629
533
11/9
10,79
698
592
11/10
11,67
767
650
11/11
12,55
836
709
11/12
13,43
905
767
11/13
14,31
975
827
11/14
15,19
1.044
885
11/15
16,07
1.113
944
11/16
16,95
1.182
1002
11/17
17,83
1.251
1061
11/18
18,71
1.321
1.120
11/19
19,59
1.390
1.179
11/20
20,47
1.459
1.237
11/21
21,35
1.528
1.296
11/22
22,23
1.597
1.354
11/23
23,11
1.667
1.414
11/24
23,99
1.736
1.472
11/25
24,87
1.805
1.531
11/26
25,75
1.874
1.589
11/27
26,63
1.943
1.648
11/28
27,51
2.013
1.707
10,91 m (36 FT) EVA12
12/8
10,21
756
641
12/9
11,09
838
711
12/10
11,97
920
780
12/11
12,85
1.003
851
12/12
13,73
1.085
920
12/13
14,61
1.167
990
12/14
15,49
1.250
1060
12/15
16,37
1.332
1.130
12/16
17,25
1.414
1.199
12/17
18,13
1.497
1.269
12/18
19,01
1.579
1.339
12/19
19,89
1.662
1.409
12/20
20,77
1.744
1.479
12/21
21,65
1.826
1.548
12/22
22,53
1.909
1.619
12/23
23,41
1.991
1.688
12/24
24,29
2.073
1.758
12/25
25,17
2.156
1.828
12/26
26,05
2.238
1.898
12/27
26,93
2.320
1.967
12/28
27,81
2.403
2.038
13/8
10,51
896
760
11,82 m (39 FT) EVA13
13/9
11,39
992
841
13/10
12,27
1.089
923
13/11
13,15
1.186
1006
13/12
14,03
1.282
1.087
13/13
14,91
1.379
1.169
13/14
15,79
1.476
1.252
13/15
16,67
1.572
1.333
13/16
17,55
1.669
1.415
13/17
18,43
1.766
1.498
13/18
19,31
1.862
1.579
13/19
20,19
1.959
1.661
13/20
21,07
2.055
1.743
13/21
21,95
2.152
1.825
13/22
22,83
2.249
1.907
13/23
23,71
2.345
1.989
13/24
24,59
2.442
2.071
13/25
25,47
2.539
2.153
13/26
26,35
2.635
2.234
13/27
27,23
2.732
2.317
13/28
28,11
2.829
2.399
13/29
28,99
2.925
2.480
13/30
29,87
3.022
2.563
12,73 m (42 FT) EVA14
14/8
10,71
1.049
890
14/9
11,59
1.161
985
14/10
12,47
1.273
1080
14/11
13,35
1.385
1.174
14/12
14,23
1.497
1.269
14/13
15,11
1.610
1.365
14/14
15,99
1.722
1.460
14/15
16,87
1.834
1.555
14/16
17,75
1.946
1.650
14/17
18,63
2.058
1.745
14/18
19,51
2.170
1.840
14/19
20,39
2.282
1.935
14/20
21,27
2.394
2.030
14/21
22,15
2.506
2.125
14/22
23,03
2.618
2.220
14/23
23,91
2.730
2.315
14/24
24,79
2.843
2.411
14/25
25,67
2.955
2.506
14/26
26,55
3.067
2.601
14/27
27,43
3.179
2.696
14/28
28,31
3.291
2.791
14/29
29,19
3.403
2.886
14/30
30,07
3.515
2.981
13,64 m (45 FT) EVA15
15/8
11,01
1.216
1031
15/9
11,89
1.345
1.141
15/10
12,77
1.473
1.249
15/11
13,65
1.602
1.358
15/12
14,53
1.731
1.468
15/13
15,41
1.859
1.576
15/14
16,29
1.988
1.686
15/15
17,17
2.117
1.795
15/16
18,05
2.245
1.904
15/17
18,93
2.374
2.013
15/18
19,81
2.503
2.123
15/19
20,69
2.632
2.232
15/20
21,57
2.760
2.340
15/21
22,45
2.889
2.450
15/22
23,33
3.018
2.559
15/23
24,21
3.146
2.668
15/24
25,09
3.275
2.777
15/25
25,97
3.404
2.887
15/26
26,85
3.532
2.995
15/27
27,73
3.661
3.105
15/28
28,61
3.790
3.214
15/29
29,49
3.918
3.322
15/30
30,37
4.047
3.432
14,55 m (48 FT) EVA16
16/8
11,16
1.397
1.185
16/9
12,04
1.544
1.309
16/10
12,92
1.690
1.433
16/11
13,80
1.836
1.557
16/12
14,68
1.983
1.682
16/13
15,56
2.129
1.805
16/14
16,44
2.275
1.929
16/15
17,32
2.422
2.054
16/16
18,20
2.568
2.178
16/17
19,08
2.715
2.302
16/18
19,96
2.861
2.426
16/19
20,84
3.007
2.550
16/20
21,72
3.154
2.675
16/21
22,60
3.300
2.798
16/22
23,48
3.447
2.923
16/23
24,36
3.593
3.047
16/24
25,24
3.739
3.171
16/25
26,12
3.886
3.295
16/26
27,00
4.032
3.419
16/27
27,88
4.179
3.544
16/28
28,91
4.325
3.668
16/29
29,79
4.471
3.791
16/30
30,67
4.618
3.916
DIAMETER (FT)
MODEL
OVERALL HEIGHT (m)
CAPACITY
m
Ton
15,46 m (51 FT) EVA17
17/8
11,61
1.592
1.350
17/9
12,49
1.758
1.491
17/10
13,37
1.923
1.631
17/11
14,25
2.088
1.771
17/12
15,13
2.253
1.911
17/13
16,01
2.419
2.051
17/14
16,89
2.584
2.191
17/15
17,77
2.749
2.331
17/16
18,65
2.914
2.471
17/17
19,53
3.080
2.612
17/18
20,41
3.245
2.752
17/19
21,29
3.410
2.892
17/20
22,17
3.576
3.032
17/21
23,05
3.741
3.172
17/22
23,93
3.906
3.312
17/23
24,81
4.071
3.452
17/24
25,69
4.237
3.593
17/25
26,57
4.402
3.733
17/26
27,45
4.567
3.873
17/27
28,33
4.732
4.013
17/28
29,21
4.898
4.154
17/29
30,09
5.063
4.293
17/30
30,97
5.228
4.433
16,37 m (54 FT) EVA18
18/8
11,81
1.802
1.528
18/9
12,69
1.987
1.685
18/10
13,57
2.173
1.843
18/11
14,45
2.358
2.000
18/12
15,33
2.543
2.156
18/13
16,21
2.729
2.314
18/14
17,09
2.914
2.471
18/15
17,97
3.099
2.628
18/16
18,85
3.284
2.785
18/17
19,73
3.470
2.943
18/18
20,61
3.655
3.099
18/19
21,49
3.840
3.256
18/20
22,37
4.026
3.414
18/21
23,25
4.211
3.571
18/22
24,13
4.396
3.728
18/23
25,01
4.581
3.885
18/24
25,89
4.767
4.042
18/25
26,77
4.952
4.199
18/26
27,65
5.137
4.356
18/27
28,53
5.323
4.514
18/28
29,41
5.508
4.671
18/29
30,29
5.693
4.828
18/30
31,17
5.878
4.985
18/31
32,05
6.064
5.142
18/32
32,93
6.249
5.299
17,28 m (57 FT) EVA19
19/8
12,11
2.027
1.719
19/9
12,99
2.233
1.894
19/10
13,87
2.440
2.069
19/11
14,75
2.646
2.244
19/12
15,63
2.853
2.419
19/13
16,51
3.059
2.594
19/14
17,39
3.266
2.770
19/15
18,27
3.472
2.944
19/16
19,15
3.678
3.119
19/17
20,03
3.885
3.294
19/18
20,91
4.091
3.469
19/19
21,79
4.298
3.645
19/20
22,67
4.504
3.819
19/21
23,55
4.711
3.995
19/22
24,43
4.917
4.170
19/23
25,31
5.124
4.345
19/24
26,19
5.330
4.520
19/25
27,07
5.536
4.695
19/26
27,95
5.743
4.870
19/27
28,83
5.949
5.045
19/28
29,71
6.156
5.220
19/29
30,59
6.362
5.395
19/30
31,47
6.569
5.571
19/31
32,35
6.775
5.745
19/32
33,23
6.982
5.921
18,19 m (60 FT) EVA20
20/8
12,41
2.267
1.922
20/9
13,29
2.496
2.117
20/10
14,17
2.724
2.310
20/11
15,05
2.953
2.504
20/12
15,93
3.182
2.698
20/13
16,81
3.411
2.893
20/14
17,69
3.639
3.086
20/15
18,57
3.868
3.280
20/16
19,45
4.097
3.474
20/17
20,33
4.325
3.668
20/18
21,21
4.554
3.862
20/19
22,09
4.783
4.056
20/20
22,97
5.012
4.250
20/21
23,85
5.240
4.444
20/22
24,73
5.469
4.638
20/23
25,61
5.698
4.832
20/24
26,49
5.927
5.026
20/25
27,37
6.155
5.219
20/26
28,25
6.384
5.414
20/27
29,13
6.613
5.608
20/28
30,01
6.842
5.802
20/29
30,89
7.070
5.995
20/30
31,77
7.299
6.190
20/31
32,65
7.528
6.384
20/32
33,53
7.757
6.578
19,10 m (63 FT) EVA21
21/8
12,61
2.522
2.139
21/9
13,49
2.774
2.352
21/10
14,37
3.027
2.567
20/11
15,25
3.279
2.781
21/12
16,13
3.531
2.994
21/13
17,01
3.783
3.208
21/14
17,89
4.035
3.422
21/15
18,77
4.288
3.636
21/16
19,65
4.540
3.850
21/17
20,53
4.792
4.064
21/18
21,41
5.044
4.277
21/19
22,29
5.296
4.491
21/20
23,17
5.549
4.706
21/21
24,05
5.801
4.919
21/22
24,93
6.053
5.133
21/23
25,81
6.305
5.347
21/24
26,69
6.557
5.560
21/25
27,57
6.809
5.774
21/26
28,45
7.062
5.989
21/27
29,33
7.314
6.202
21/28
30,21
7.566
6.416
21/29
31,09
7.818
6.630
21/30
31,97
8.070
6.843
21/31
32,85
8.323
7.058
21/32
33,73
8.575
7.272
20,01 m (66 FT) EVA22
22/8
12,91
2.793
2.368
22/9
13,79
3.070
2.603
22/10
14,67
3.347
2.838
22/11
15,55
3.624
3.073
22/12
16,43
3.901
3.308
22/13
17,31
4.177
3.542
22/14
18,19
4.454
3.777
22/15
19,07
4.731
4.012
22/16
19,95
5.008
4.247
22/17
20,83
5.285
4.482
22/18
21,71
5.561
4.716
22/19
22,59
5.838
4.951
22/20
23,47
6.115
5.186
22/21
24,35
6.392
5.420
22/22
25,23
6.668
5.654
22/23
26,11
6.945
5.889
22/24
26,99
7.222
6.124
22/25
27,87
7.499
6.359
22/26
28,75
7.776
6.594
22/27
29,63
8.052
6.828
22/28
30,51
8.329
7.063
22/29
31,39
8.606
7.298
22/30
32,27
8.883
7.533
22/31
33,15
9.160
7.768
22/32
34,03
9.436
8.002
DIAMETER (FT)
MODEL
OVERALL HEIGHT (m)
CAPACITY
m
Ton
20,92 m (69 FT) EVA23
23/8
13,21
3.081
2.613
23/9
14,09
3.383
2.869
23/10
14,97
3.686
3.126
23/11
15,85
3.988
3.382
23/12
16,73
4.291
3.639
23/13
17,61
4.594
3.896
23/14
18,49
4.896
4.152
23/15
19,37
5.199
4.409
23/16
20,25
5.501
4.665
23/17
21,13
5.804
4.922
23/18
22,01
6.106
5.178
23/19
22,89
6.409
5.435
23/20
23,77
6.711
5.691
23/21
24,65
7.014
5.948
23/22
25,53
7.316
6.204
23/23
26,41
7.619
6.461
23/24
27,29
7.921
6.717
23/25
28,17
8.224
6.974
23/26
29,05
8.526
7.230
23/27
29,93
8.829
7.487
23/28
30,81
9.131
7.743
23/29
31,69
9.434
8.000
23/30
32,57
9.736
8.256
23/31
33,45
10.039
8.513
23/32
34,33
10.341
8.769
21,83 m (72 FT) EVA24
24/8
13,51
3.385
2.870
24/9
14,39
3.714
3.149
24/10
15,27
4.044
3.429
24/11
16,15
4.373
3.708
24/12
17,03
4.702
3.987
24/13
17,91
5.032
4.267
24/14
18,79
5.361
4.546
24/15
19,67
5.691
4.826
24/16
20,55
6.020
5.105
24/17
21,43
6.349
5.384
24/18
22,31
6.679
5.664
24/19
23,19
7.008
5.943
24/20
24,07
7.338
6.223
24/21
24,95
7.667
6.502
24/22
25,83
7.996
6.781
24/23
26,71
8.326
7.060
24/24
27,59
8.655
7.339
24/25
28,47
8.985
7.619
24/26
29,35
9.314
7.898
24/27
30,23
9.643
8.177
24/28
31,11
9.973
8.457
24/29
31,99
10.302
8.736
24/30
32,87
10.632
9.016
24/31
33,75
10.961
9.295
24/32
34,63
11.290
9.574
22,74 m (75 FT) EVA25
25/8
13,71
3.706
3.143
25/9
14,59
4.063
3.445
25/10
15,47
4.420
3.748
25/11
16,35
4.778
4.052
25/12
17,23
5.135
4.354
25/13
18,11
5.493
4.658
25/14
18,99
5.850
4.961
25/15
19,87
6.207
5.264
25/16
20,75
6.565
5.567
25/17
21,63
6.922
5.870
25/18
22,51
7.280
6.173
25/19
23,39
7.637
6.476
25/20
24,27
7.995
6.780
25/21
25,15
8.352
7.082
25/22
26,03
8.709
7.385
25/23
26,91
9.067
7.689
25/24
27,79
9.424
7.992
25/25
28,67
9.782
8.295
25/26
29,55
10.139
8.598
25/27
30,43
10.496
8.901
25/28
31,31
10.854
9.204
25/29
32,19
11.211
9.507
25/30
33,07
11.569
9.811
25/31
33,95
11.926
10.113
25/32
34,83
12.284
10.417
23,65 m (78 FT) EVA26
26/8
14,01
4.043
3.428
26/9
14,89
4.430
3.757
26/10
15,77
4.816
4.084
26/11
16,65
5.203
4.412
26/12
17,53
5.590
4.740
26/13
18,41
5.976
5.068
26/14
19,29
6.363
5.396
26/15
20,17
6.749
5.723
26/16
21,05
7.136
6.051
26/17
21,93
7.523
6.380
26/18
22,81
7.909
6.707
26/19
23,69
8.296
7.035
26/20
24,57
8.682
7.362
26/21
25,45
9.069
7.691
26/22
26,33
9.455
8.018
26/23
27,21
9.842
8.346
26/24
28,09
10.229
8.674
26/25
28,97
10.615
9.002
26/26
29,85
11.002
9.330
26/27
30,73
11.388
9.657
26/28
31,61
11.775
9.985
26/29
32,49
12.162
10.313
26/30
33,37
12.548
10.641
26/31
34,25
12.935
10.969
26/32
35,13
13.321
11.296
24,56 m (81 FT) EVA27
27/8
14,31
4.398
3.730
27/9
15,19
4.815
4.083
27/10
16,07
5.232
4.437
27/11
16,95
5.649
4.790
27/12
17,83
6.066
5.144
27/13
18,71
6.483
5.498
27/14
19,59
6.900
5.851
27/15
20,47
7.317
6.205
27/16
21,35
7.734
6.558
27/17
22,23
8.150
6.911
27/18
23,11
8.567
7.265
27/19
23,99
8.984
7.618
27/20
24,87
9.401
7.972
27/21
25,75
9.818
8.326
27/22
26,63
10.235
8.679
27/23
27,51
10.652
9.033
27/24
28,39
11.069
9.387
27/25
29,27
11.486
9.740
27/26
30,15
11.902
10.093
27/27
31,03
12.319
10.447
27/28
31,91
12.736
10.800
27/29
32,79
13.153
11.154
27/30
33,67
13.570
11.507
27/31
34,55
13.987
11.861
27/32
35,43
14.404
12.215
The maximum capacities of bins are based on 800 kg/m³ (wheat) grain density and calculated with %6 compression ratio.
Above given capacities may be different depending on the product to be stored, its physiological properties, moisture content, product densities, etc.
Eva Grain Storage Systems LLC reserves the right to chance designs and specifications without prior notice.